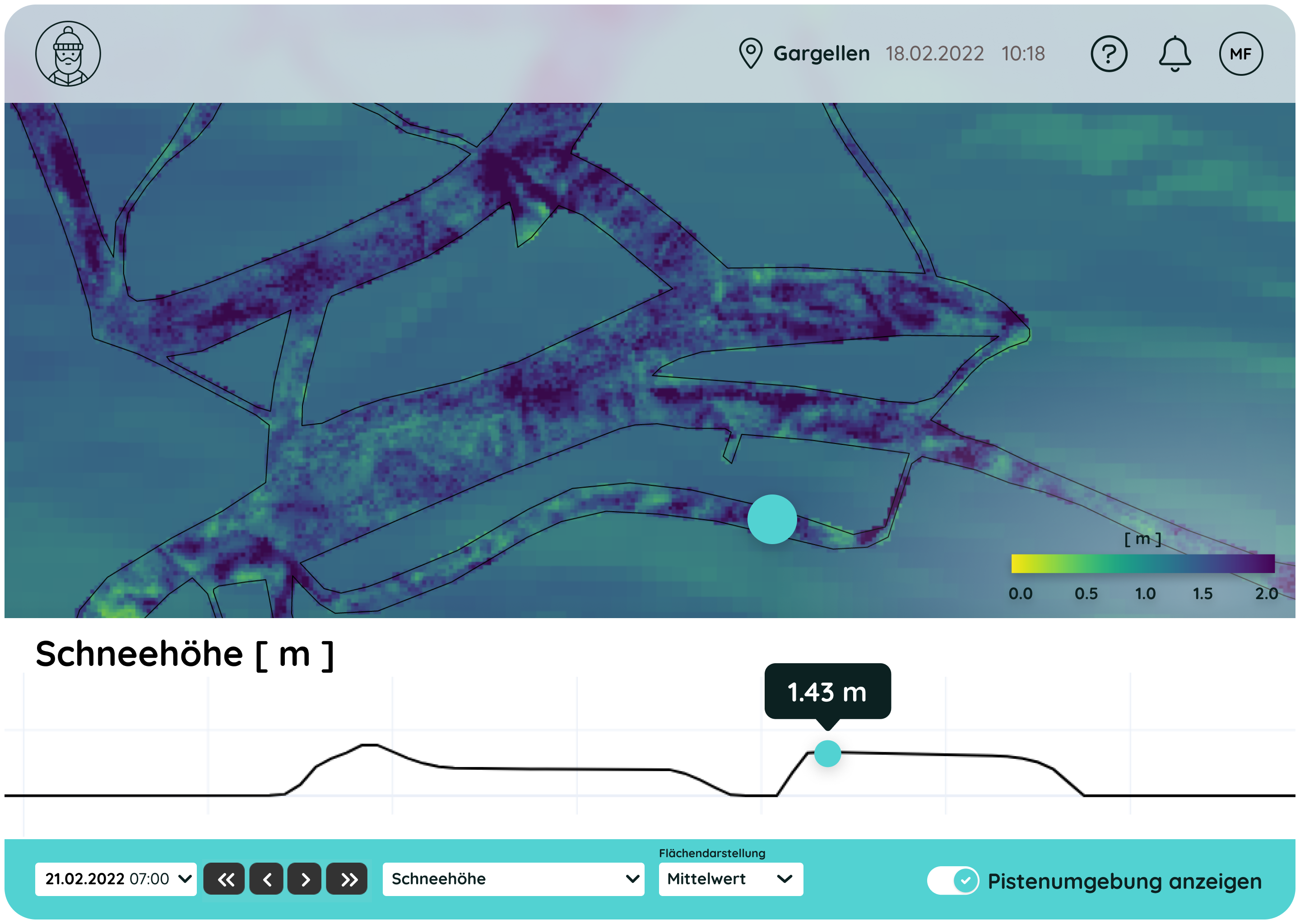 Efficient and sustainable snow management for ideal slopes
With Schneeprophet you can make informed decisions about where, when and how much snow is to be made. The software simulates the condition of your slopes and thus enables forecasts into the future and detailed analyses of the past. In this way, you reliably ensure the best slope conditions with minimal resource consumption.
Supported by
Funded by PreSeed of the BMDW and the BMK, respectively, handled by aws.
With Schneeprophet you no longer rely only on the weather report and your gut. Based on the latest weather forecasts, snow depth and weather station measurements, as well as snowmaking data from your ski resort, our software simulates the slope conditions into the future – in detail and at high resolution. This maximizes your chance of always making exactly the right snowmaking decision. With Schneeprophet, you reliably ensure the best slope conditions with minimal resource consumption.

Effective snowmaking strategies
Schneeprophet takes into account the snowmaking strategies relevant to your ski area to predict their respective impact on your slopes in the future. Our software clearly shows you the resulting snow conditions. This way you always make the right decision which strategy is the best for you at the moment.

Conservation of resources through reduced consumption of water and energy for sustainable ski tourism.
Effective cost savings through targeted snowmaking. Long-term and sustainable.

Perfect slope conditions through reliable simulation of snowmaking and natural snow.
Schneeprophet
explained in 2 minutes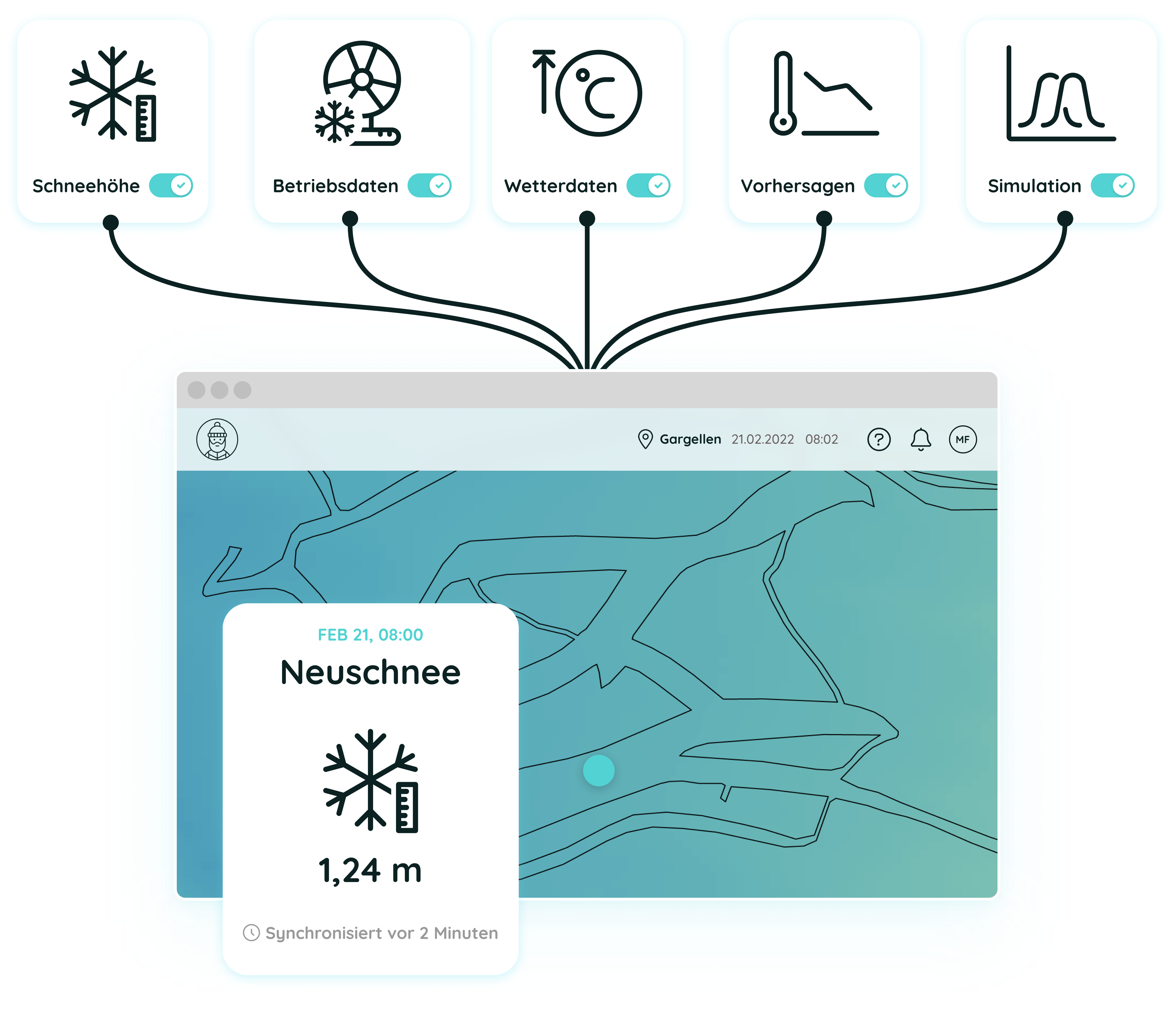 Real-time snow simulations
Schneeprophet continuously computes and integrates real-time data streams from various sources.
Valuable data from your ski resort (high-resolution snow depth measurements and operating data of the snow guns)
Meteorological data from weather stations in and around the ski area
Latest high-resolution weather model forecasts
Analyze and compare forecasts
The predicted conditions can be compared and analyzed with Schneeprophet. For this purpose, a number of configurable evaluation indices are calculated and visualized.
Snow simulation with forecast into the future – on and off the slopes
Simulation of snowmaking and slope preparation
Extremely high resolution in the meter range
Comparison of energy and water consumption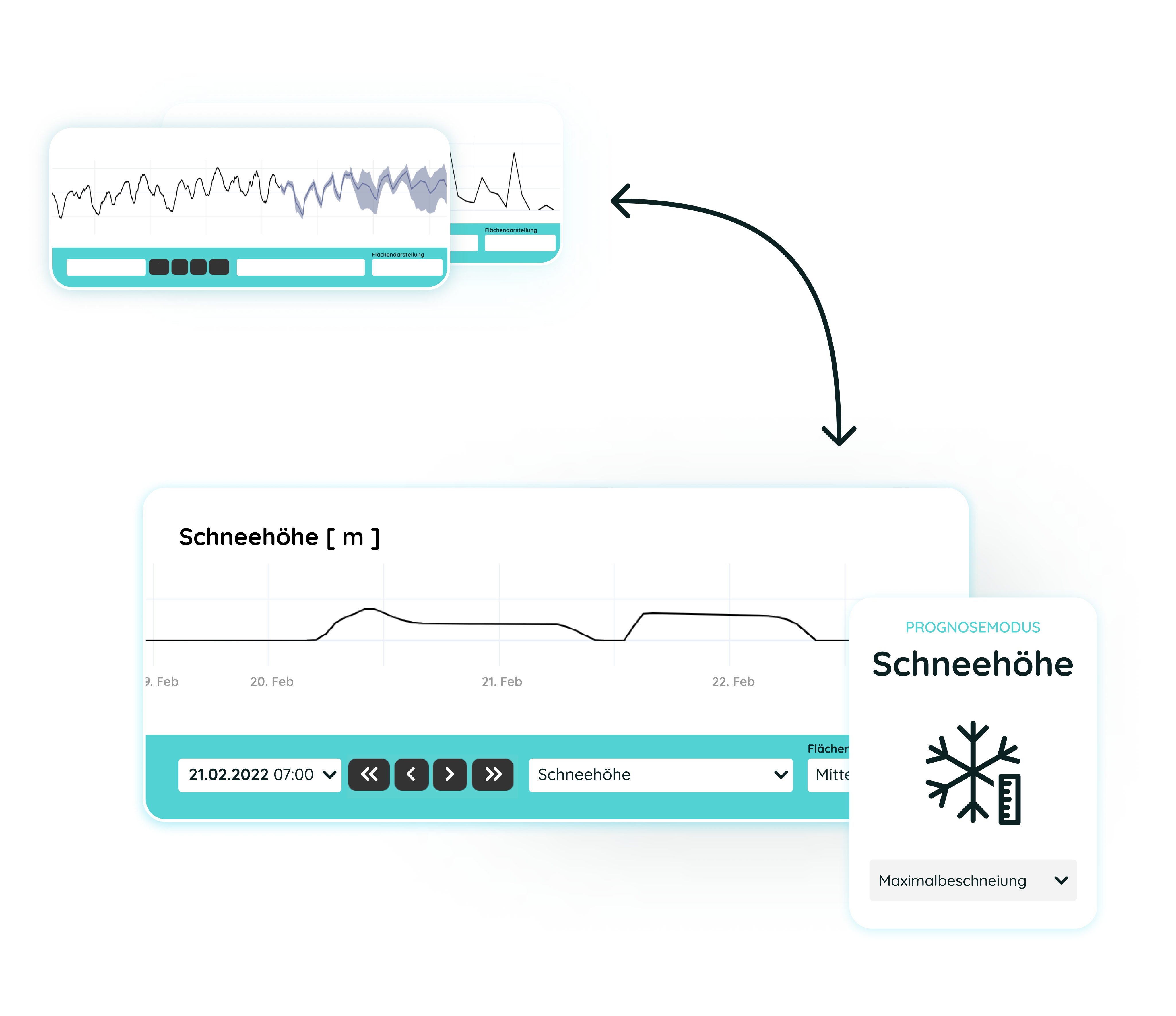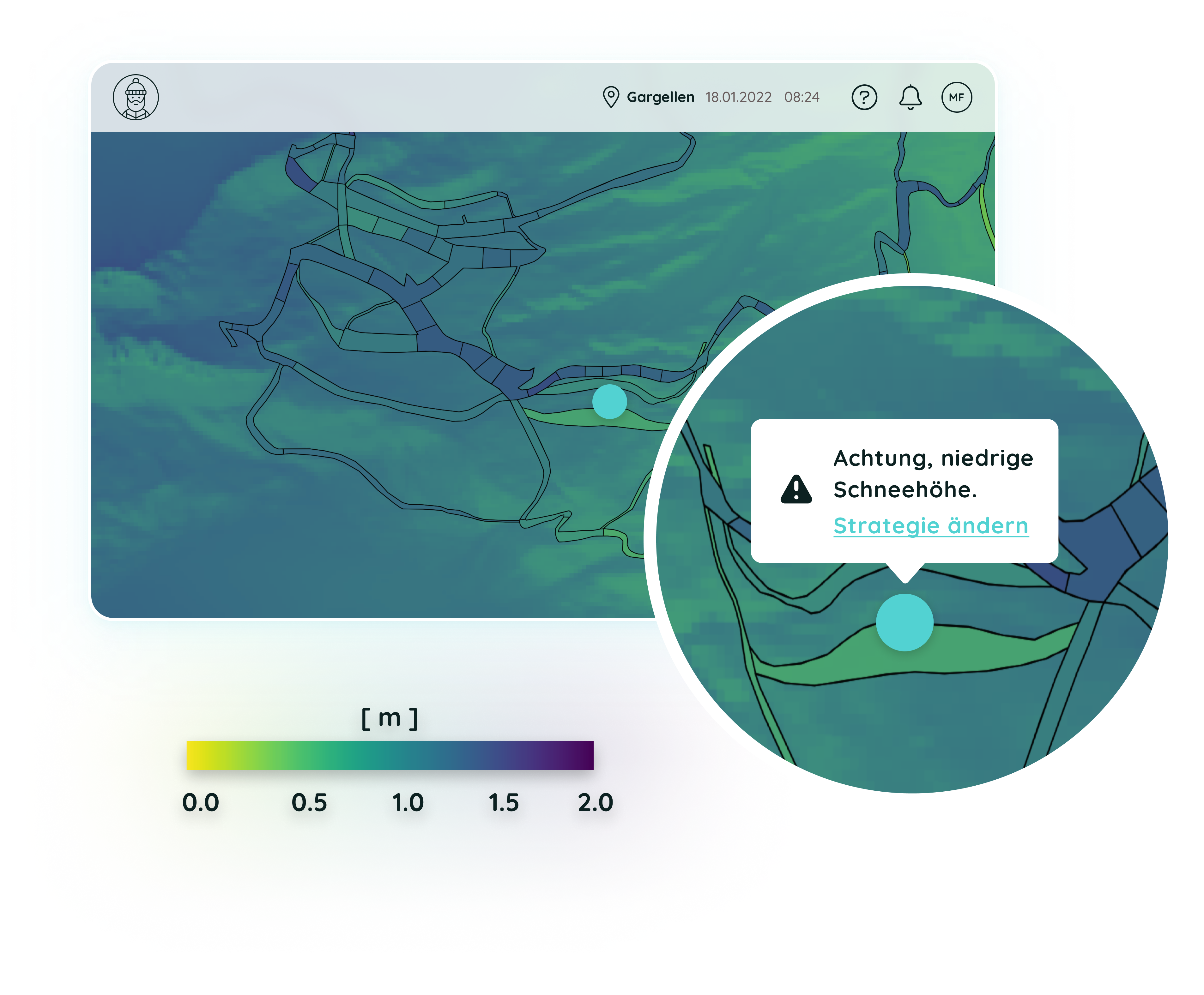 Identify problem spots and hotspots
The extremely high resolution in the meter range supports you in identifying local hotspots or particular problem areas of snow conditions and in adjusting your strategy by comparing and analyzing forecasts.
Individualized features and personal consulting
Through our additional features and consulting services, we can individually expand your Schneeprophet system and adapt it to your needs. For even more targeted calculations and forecasts.
Past analysis
Together with you, our team compares past seasons and draws the right conclusions.
Virtual infrastructure testing
New components in the snowmaking system can be virtually tested in the simulations before acquisition.
Snow depots
The simulations can help to better assess the location and efficiency of snow depots and thus to plan for them.
Virtual testing of saving actions
In the simulations, actions for saving resources in snowmaking can be tested virtually. Required energy and water quantities are calculated precisely.
Integration with third-party systems
Several systems are used in your daily snowmaking routine. Schneeprophet is prepared to be connected with any of these tools.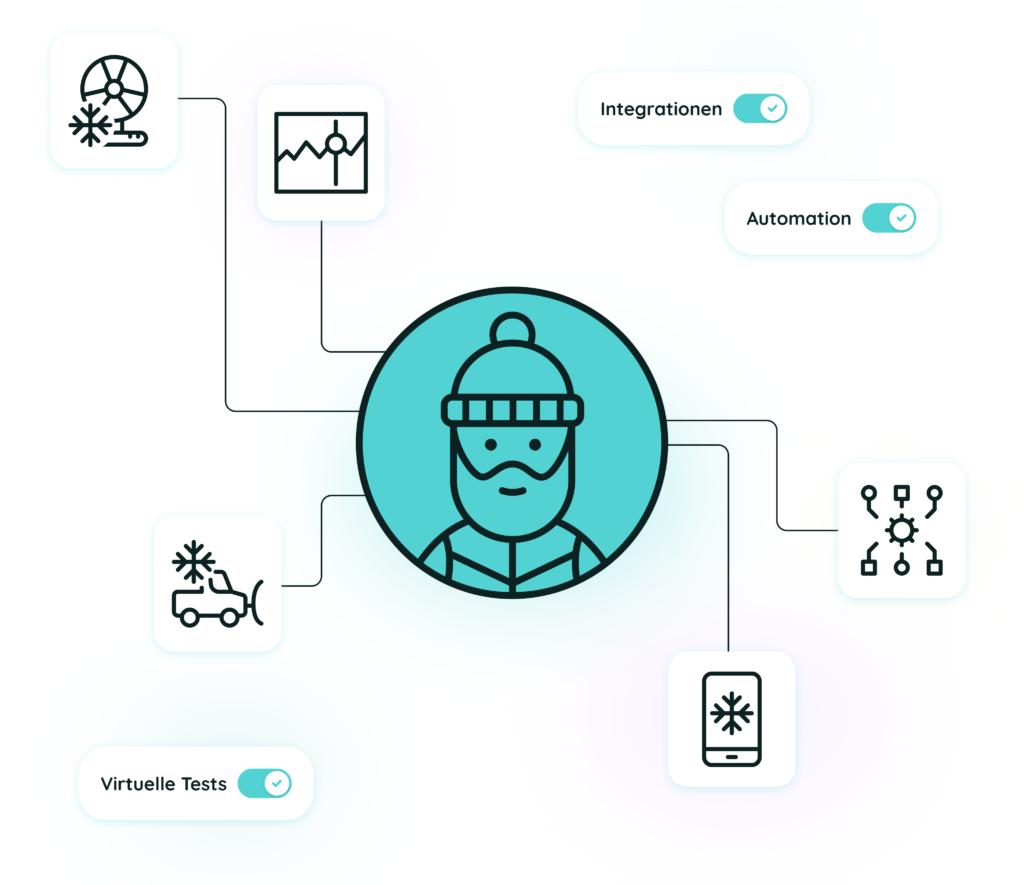 Simulate achievable savings
Quick results: see immediately how much resources and costs are saved. Successes become measurable.
Schneeprophet is a product
of the lumiosys GmbH
We are a Tyrolean start-up and support ski resorts in making optimal use of their technical snowmaking. For this purpose we have developed the software Schneeprophet with our 20 years of experience in snow research.

Florian Hanzer, PhD
Founder, Managing Director and CTO lumiosys. IT & Software. Senior Researcher.

Dr. Michael Warscher
Founder, Managing Director and COO lumiosys. Operations & Admin. Senior Researcher.

Univ.-Prof. Dr. Ulrich Strasser
Founder lumiosys. Research and development. Professor at the Institute of Geography, University of Innsbruck.

You can also contact us directly to find out more about Schneeprophet
We will be happy to help and advise you on how Schneeprophet can be used in your ski resort. Just contact us for a no-obligation info talk.